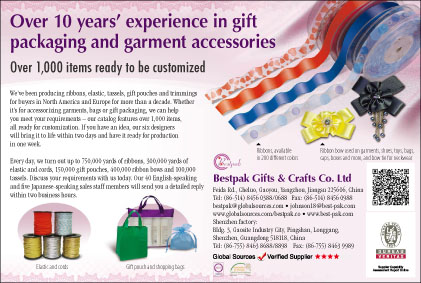 Share:




E-mail

Print

Bookmark
Yangzhou Bestpak Gifts & Crafts Co. Ltd

Follow me

We provide eco-friendly and azo-free items

1,000+ items ready for customization | 45 sales staff

4 Star China (mainland)

Credit Check - Supplier Credit Profile

provides impartial credit and vital business metrics for select suppliers on Global Sources Online. Using the Credit Check reports, buyers can easily compare key indicators and more efficiently manage risk. Suppliers with a Credit Check logo have agreed to allow this information to be reported to help buyers streamline the selection and due-diligence processes.

The supplier information below has been obtained from relevant government agencies in the supplier's country and is subjected to change without prior notice. Credit Check and verification procedures were conducted by Sinotrust, a third-party credit agency.
Read Disclaimer


Registered Address:
Building 3 Gaosite Industrial City Pingshan Town
Longgang District Shenzhen City
Guangdong Province China

Incorporation Date:
February 09, 2003
Legal Form:
Limited liability company
Company Status:
Live
Registration Agency:
Shenzhen Municipal Administration for Industry & Commerce
Registration Number:
4403012105650
Authorized Capital:
RMB 1,000,000
Paid-Up Capital:
RMB 1,000,000
Legal Representatives:
ZHANG Suoming
Import & Export Licences Obtained:
Yes
Business Scope:
Production and sale of all kinds of ropes, ribbons, sewn products, all kinds of adornments, arts and crafts (excluding restricted items); domestic commerce, and materials supply & marketing (excluding commodities under special operation, special control, and monopoly sale); self-run import and export business (operation shall be subject to SMGDZZ No. 2003-0770 approval).
Business Permit Expiry:
February 09, 2033
Shareholders:
• ZHANG Suoming
• ZHANG Shirong




Want a more detailed Credit Report on this supplier?



Authenticated and verified by:
Sinotrust


On February 26, 2013

Contact Details




Yangzhou Bestpak Gifts & Crafts Co. Ltd
Feida Rd., Cheluo
Gaoyou
Yangzhou
Jiangsu
China 225606
Tel: (86 514) 8456 0388 (86 514) 8456 0688
Fax: (86 514) 8456 0988 / (86 514) 8456 9055


Homepage Address
http://www.globalsources.com/bestpak.co
Other Homepage Address
http://www.best-pak.com


Chat with supplier using:

Key Contact:
Mr Zhang, Johnson
General Manager


Ms Zeng, Shirley
Manager
Sales


1st Factory Address
Bestpak Gifts & Crafts Co. Ltd.
Bldg. 3, Gaosite Industry City
Pingshan, Longgang
Shenzhen
Guangdong
China (mainland) 518118
Tel: (86 755) 8463 8138 / (86 755) 8463 8688
Fax: (86 755) 8463 9989
Key Contact:
Rita, Sales


Supplier and product information updated November 19, 2013.
Verified Business Registration Details
Registered Company: 深圳市百仕德礼品工艺有限公司
Business Registration Number: 4403012105650
Company Registration Address: 深圳市龙岗区坪山镇高思特工业城第3幢


* In some jurisdictions, company names and addresses are registered in Chinese only.